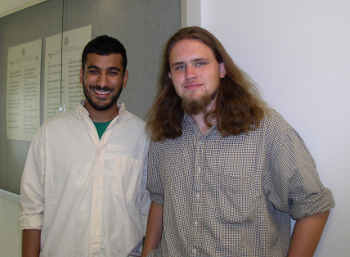 2006 Department Citation winners Avi Singh and Chad Van Schoelandt
Recent News
The Philosophy Department had a record-high 140 majors in Winter Quarter of 2009.
The Philosophy Department at UC Davis offers the Philosophy Honors Program for qualified undergraduate seniors. Participation in this program is a prerequisite for awards pf high honors or highest honors at graduation.
Eligibility
To be eligible for departmental recommendation for high or highest honors in Philosophy at graduation, students must complete the Philosophy Honors Program, which constitutes completion of the Honors Program of the College of Letters and Science. High and highest honors are awarded to those students whose grade-point averages are in the top 4% to 8% of students graduating in their college, depending on the number of quarter units completed at UC Davis.
Students will be invited to participate in the Philosophy Honors Program on the basis of grade-point averages, interviews, and faculty recommendations. Membership in the Program is restricted to students who meet the following criteria:
they are majors in philosophy
they have completed at least 135 units
they have achieved a cumulative grade-point average of at least 3.5 in the courses they have taken that count toward the major
they have achieved a cumulative grade-point average of at least 3.5 in upper-division philosophy courses they have taken
Requirements
Honors students are required to complete courses 194HA and 194HB during two quarters of their honors year. These courses are usually taken in conjunction with graduate seminars. Please consult the departmental major adviser, Dr. Mattey, for more details.