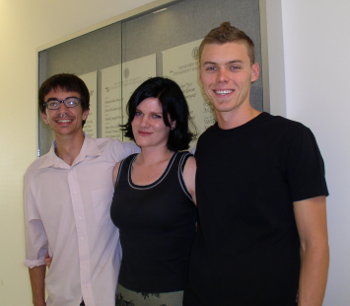 2005 Department Citation winners Victor Copeland, Jenny Logan and Kory DeClark
Recent News
The Philosophy Department had a record-high 140 majors in Winter Quarter of 2009.
The Philosophy department offers a minor in philosophy, which may be completed in conjunction with any other major. This page describes the minor requirements and includes a FAQ that answers a number of questions about these requirements.
Minor Adviser: (530) 554-4950, Dr. G. J. Mattey

Staff Adviser: 752-0607, Heidi Williams
Minor Requirements
Philosophy -- General
1. 20 upper-division units in philosophy.

Philosophy 12 may be substituted for four of the required upper-division units.
Philosophy -- Logic
1. Philosophy 12 or Mathematics 108: 4 units
2. Philosophy 112: 4 units
3. 12 units selected from Philosophy 113, 131, 134, 135, 189K.
Total: 20 units.

Note that course 113 may be repeated when content is different. Students wishing to pursue the logic minor should plan to begin taking courses in their second year, due to the limited number of offerings from the last group.
Frequently Asked Questions
1. How can I use lower-division units to satisfy the minor?
Students who entered UC Davis Fall 2003 or later can do so only by taking course 12 as a substitute for one upper-division course. For students entering UC Davis before Fall 2003, two lower-division philosophy courses, at least one of which is course 12, 21, 22, 22N, or 23, may be substituted for one upper-division course.
2. Can courses I took at community college be used to satisfy the minor?
Yes, but only under certain conditions. For students entering UC Davis Fall 2003 or later may substitute a course approved as equivalent to Philosophy 12. For all other students, the following applies. All community college courses count as lower-division, and you need two lower-division courses to substitute for one upper-division course. (See answer to the previous question.) Any course that transfers can serve as one of the two. The other one must be one of the UCD courses 12, 21, 22, 22N, or 23, or an approved equivalent. See the ASSIST Web page to find UCD courses equivalent to your community college courses.
3. How and when should I file for the minor?
Forms are available only from your college office. They require signature of both the major adviser and the minor adviser. Substitutions for listed courses may be made only through petition to the Dean's Office, signed by the minor adviser. Therefore, you should file only when you either have completed all the listed courses or are certain that you will. The last date for filing is the end of the second week of instruction in the quarter of graduation.
4. Do I need to satisfy the Preparatory Subject Matter (lower-division courses) before I can take upper-division philosophy courses?
Courses may be taken in any order, but be sure to check for prerequisites. For most people, Philosophy 12 should be taken before any other logic course. Philosophy 21 should be taken before any course in ancient philosophy (160, 161, 162). Philosophy 22N should be taken before any course in modern philosophy (151, 157, 168, 169, 170, 172, 174, 175).
5. Do graduate courses count toward the minor?
Yes. But see the instructor before signing up, to determine whether you are prepared for the course. Also, be aware that graduate courses do not count toward the L&S; unit requirements for upper-division courses. These are: 1) 64 units of upper-division overall, 2) 27 upper-division units, including 18 upper-division units in the major, completed on the Davis campus. These requirements are especially crucial for community college transfer students with 100+ transferred units.
6. Can I substitute courses from other departments or programs for philosophy units?
No. The unit requirement for the philosophy minor is already quite low.
7. Do courses used to satisfy the GE requirements count toward the minor?
Yes.
8. Can I take courses for the minor pass/non-pass?
Yes, up to any limits set by your college. If you are thinking about taking a course on this basis, please see the minor adviser about how it will look on your transcript.
9. Other questions?
Send other questions to gjmattey@ucdavis.edu