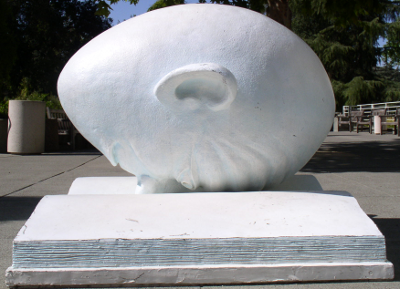 Robert Arneson's "Bookhead"
The people making up the UC Davis Philosophy Department are faculty, staff, and students.
Faculty
Each faculty member has a Ph.D. from a prominent philosophy graduate program. Faculty are actively engaged in research, publishing numerous books and articles in their areas of specialization and giving talks around the world. For those interested in the history of the department, there is a narrative account by Professor Emeritus John Malcolm, a list of changes in department faculty since 1971, and a list of all Ph.D.s granted by the program.
Emerita Professor Marjorie Glicksman Grene passed away on March 16th, at the age of 98. A memorial notice by Emeritus Professor Michael V. Wedin is here. A notice by Virginia Tech Professor Richard Burian may be found here.
Staff
Our staff works under the auspices of the Sproul Social Science Administration, which is headquartered in Kerr Hall. Lesley Byrns is the chief of staff. Heidi Williams is the staff assistant for the graduate and undergraduate programs. Nicole Gasteiger is the financial officer. Kelly Byrns is student assistant.
Students
The student body of the Department is composed of graduate and undergraduate students. Our graduate students are all pursuing the Ph.D. in philosophy. After completing their degrees, most go on to teach philosophy at institutions across the nation. Our undergraduates either major or minor in philosophy. Many of the majors go on to pursue the Ph.D. in philosophy, and others seek advanced degrees in other fields, particularly law. The rest find rewarding careers in fields ranging from education to the computer industry.