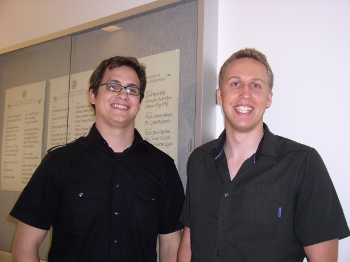 2008 Department Citation winners Justin Rodriguez and Del Bohner
Philosophy addresses problems and questions that arise in all areas of human thought and experience and in all disciplines. Recurring questions about the nature of value, the good life, right conduct, knowledge, truth, language, mind, and reality are central to philosophical study. Philosophy also investigates the methodologies and assumptions of the major disciplines in the university in order to deepen our understanding of the sciences, of mathematics, art, literature, and history, and of religion and morality. It leads us to address issues about the nature of these subjects, about the methods of reasoning characteristic of them, and about the contributions they make to our understanding of ourselves and our world.
Education in Philosophy
Philosophy contributes to the liberal education of its students. The department emphasizes an analytic approach to philosophical questions, which trains students to understand and evaluate arguments and to think and write precisely and clearly. These skills are of immense value in a variety of careers.
Learning Outcomes
Students graduating with a degree should be able to:
Employ analytical techniques to construct arguments that proceed via trustworthy inferences from plausible starting points. Though emphasis is on philosophical arguments, the techniques apply to all areas of argumentation.
Supplement their informal reasoning with an ability to employ formal techniques.
Communicate complex and abstract ideas clearly both orally and via written text.
Demonstrate knowledge of the motivations and problems for a wide variety of positions in historical and contemporary philosophy.
Career Alternatives
Students of philosophy learn to understand and evaluate arguments and to think and write precisely and clearly. These analytical skills are assets in any career. Many of our majors have pursued graduate study in philosophy and have become philosophers in their own right. Others have pursued academic careers in related disciplines in the humanities and social sciences. Philosophy majors are well prepared for law, business, or other professional schools and have found careers in computer programming, government service, teaching, the ministry, and social work.
Undergraduate Philosophy Essay Contest
The philosophy department has established an annual essay contest for UC Davis undergraduates. Submissions for 2012 will be due Spring Quarter, 2012. Information on last year's contest is available here.